Specifications
(a) Process of Manufacture
Process: Seamless
Heat Treatment: Quenched and Tempered/Ausformed Tempered
(b) Chemical Composition
Grade
C
Si max.
Mn
P max.
S max.
Cr
Ni
Mo
Cu max.
JFE-UHP™-15CR-125
Max
0.04
Max
0.50
Max
0.60
0.020
0.005
14.0~16.0
6.00~7.00
1.8~2.5
1.5
(c) Specified Physical Properties (at Ambient Temperature)
Grade
Yield Strength
Tensile Strength
Elongation %
Hardness
max. HRC
min. ksi (MPa)
max. ksi (MPa)
min. ksi (MPa)
JFE-UHP™-15CR-125
125(862)
150(1034)
135(931)
API Formula
37
Test Data
(a) CO2 Corrosion Test Results of UHPTM-15CR-125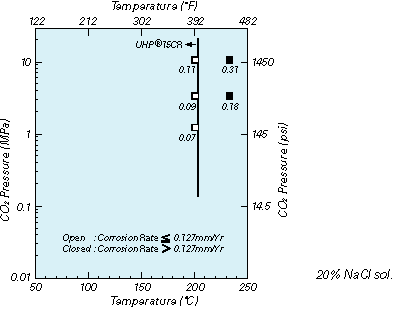 (b) SSC Test Results of UHPTM-15CR-125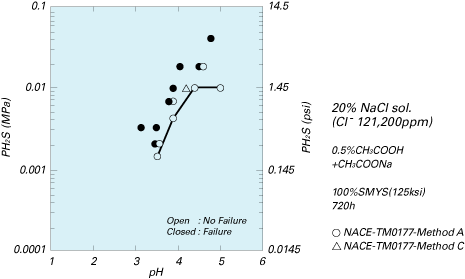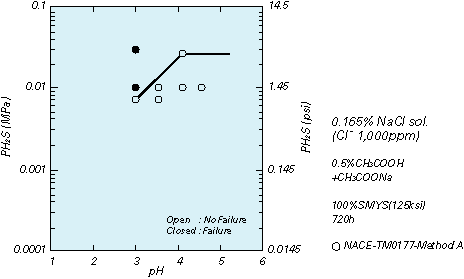 (c) Tensile test results of UHPTM-15CR-125 at elevated temperature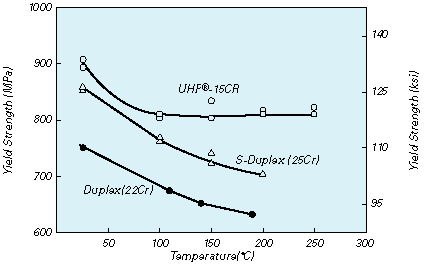 * JFE-UHP™-15CR-125 provides better tensile properties at elevated temperature than Duplex stainless steel, which requires cold drawn.
(d) Corrosion test results in acidizing condition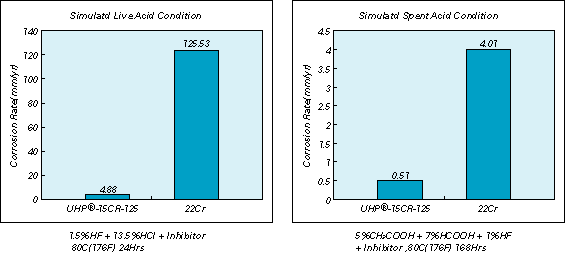 * JFE-UHP™-15CR-125 provides better corrosion resistance than Duplex stainless steel during acidizing operations.
---
Notes
The corrosion testing data in this brochure were obtained from laboratory testing results. Care should always be taken when selecting materials, as operating conditions may change during the period of usage.
Regarding completion/packer fluid
Care should be taken in the selection of well fluids such as completion/packer fluids used in connection with this material in order to minimize the risk of stress corrosion cracking. JFE recommends that you consult with a person knowledgeable about fluid compatibility with this material in making a selection.
*Cr tubulars have shown a tendency toward localized pitting corrosion when stored in moist environments. Special precautions during coating, shipping and storage are required.
Anti-galling connection
Cr tubulars have been categorized as prone to thread galling, JFE Steel recommends to use FOX™ and JFEBEAR™ premium connection which overcomes this concern by its special design criteria.